PHUC KHANG SCORES DOUBLE VICTORY AT DOT PROPERTY VIETNAM AWARDS 2022
The Diamond Lotus Riverside green project developed by Phuc Khang Corporation in HCMC's District 8
At the gala night of the Dot Property Vietnam Awards 2022 held in HCMC on July 28, Phuc Khang Construction and Investment Corporation was named the winner of two prizes: Best Green Developer Vietnam 2022 and Special Recognition Awards for CSR Vietnam 2022. The double victory asserts the firm's prestige among the public for green growth and humane values toward sustainable development.
Two representatives of Phuc Khang Corporation receive the Dot Property Vietnam Awards
The annual Dot Property Vietnam Awards is organized to honor real estate developers with outstanding projects and significant achievements. The Dot Property Vietnam Awards 2022 Gala night themed "Sustainable development: Awaking a promising journey of Vietnam's property industry" is seen as a festival for the real estate sector, with the participation of many executives of property firms and experts on sustainable development.
Judged by a panel of experts in real estate, Phuc Khang Corporation grabbed two awards, Best Green Developer Vietnam 2022 and Special Recognition Awards for CSR Vietnam 2022 at this year's awards.
Addressing the Gala night, Nguyen Kien Cuong, deputy general director of Phuc Khang Corporation, said: "This recognition is meaningful for Phuc Khang Corporation's efforts on the path to sustainability. We are proud to be a pioneer green developer, who always pursues a mission of creating high quality works embracing green and cultural values. Meeting all global green standards, Phuc Khang's works help save some 44% of energy and 36.5%-55% of water, bringing about a healthy and convenient life to residents."
"During the development journey, we have ceaselessly been providing practical support for the community with a desire to make the society healthier and happier. Earning the two prizes at the Dot Property Vietnam Awards 2022 strongly stimulates Phuc Khang Corporation to continue its path of spreading humane values and creating positive impacts on other enterprises for the green and sustainable development in the local and global markets," he added.
Best green developer in Vietnam in 2022
Phuc Khang Construction and Investment Corporation, or Phuc Khang Corporation, is the nation's leading property developer of world-class green projects, with 13 years' experience. Persistent in pursuing its mission of promoting a better lifestyle for public health and a sustainable human and ecological environment in line with the global green standards, Phuc Khang Corporation has turned itself into an ecosystem including enterprises active in various fields such as project development and investment, trade-service, infrastructure, education and fast-moving consumer goods. The ecosystem centers on the core value of creating unique and outstanding genuine green products that meet LEED (the U.S.), GREEN MARK (Singapore) and LOTUS (Vietnam) green building standards to offer practical benefits to customers and the society.
With the goal for "A green, civilized and traditional Vietnam," Phuc Khang Corporation's green works are developed to provide optimal solutions for a living space boasting ecological, economical and energetic values. Apart from creating world-class green works, the firm is also striving to transfer sustainable values and form a humane and green community to preserve and promote the national cultural value. Luu Thi Thanh Mau, CEO at Phuc Khang Corporation, has repeatedly mentioned the sustainable development strategy at meetings, high-profile conferences and global forums. Therefore, the green works are seen as a key tool to convey sustainable values, contributing to building a green lifestyle for the community.
As a pioneer in building green works, coupled with its right orientation and strength, Phuc Khang Corporation is one of Vietnam's major real estate developers with stable growth despite the impact of the Covid pandemic. Before winning big at the Dot Property Vietnam Awards 2022, Phuc Khang Corporation was listed among the top 10 leading enterprises in Vietnam in 2021 for sustainable development.
Specifically, the Lotus Village project invested by Phuc Khang Corporation was highly valued and won the National Urban Planning II prize. Its Diamong Lotus Riverside green project developed in HCMC's District 8 was awarded with a LOTUS Provisional certificate and was named one of the top five smart green works in 2021.
With the recognition as the "Best Green Developer Vietnam 2022" at the Dot Property Vietnam Awards 2022, Phuc Khang Corporation continues to rack up achievements and rise in its prestige in Vietnam.
Most socially responsible real estate firm in Vietnam in 2022
During its development journey, aside from creating a high-quality living space and a green lifestyle, Phuc Khang Corporation is a CSR-minded firm. At a recent event, CEO Luu Thi Thanh Mau said that CSR (Corporate Social Responsibility) activities are also the pillar of the company's development. With the female leader's determination for the philosophy that the success and sustainability of a business must go hand in hand with responsibilities and benefits for the society, Phuc Khang Corporation has been launching countless short-term and long-term CSR programs over the past 13 years.
One of its meaningful CSR initiatives is the "Volunteer Green Heart" campaign, which was launched at the peak of the Covid pandemic. With its message of spreading love and kindness, Phuc Khang Corporation conducted a series of CSR programs, joining hands with the authorities and frontline forces and accompanying residents to ride out the hardships induced by the pandemic.
Through the "Volunteer Green Heart" campaign, Phuc Khang Corporation donated medical equipment worth some VND20 billion to frontline hospitals and gave 11,000 sets of gifts to poor people. The firm also presented 20,000 meals to the needy and offered 1,500 tablets and hundreds of scholarships to students hit hard by the pandemic.
Such a humane act was meant to sooth the pain and loss, and nurturing the young generations of the country.
Several meaningful CSR activities implemented by Phuc Khang Corporation
For its wholehearted support for the community, Phuc Khang Corporation was honored by the chairman of HCMC for its efforts in business and contributions to the fight against Covid.
Phuc Khang was once again named as the most socially responsible company in 2022 at the prestigious Dot Property Awards. The prize is not only a recognition for Phuc Khang Corporation, but also inspires and spreads the sharing spirit to real estate developers.
Developing green and sustainable property projects becomes more practical than ever amid big challenges of environment and climate change, especially during recent scorching heatwaves that are expected to cause wildfires and an economic crisis, and threaten people's life and health. Phuc Khang Corporation, though not a global firm, has started with a global mindset, choosing a path toward green and sustainable development for an ecological environment and a healthy society. The double victory demonstrates the firm's right path and efforts in improving the community, actively contributing to addressing the big challenges facing the world.
SOME PHOTOS AT THE EVENT: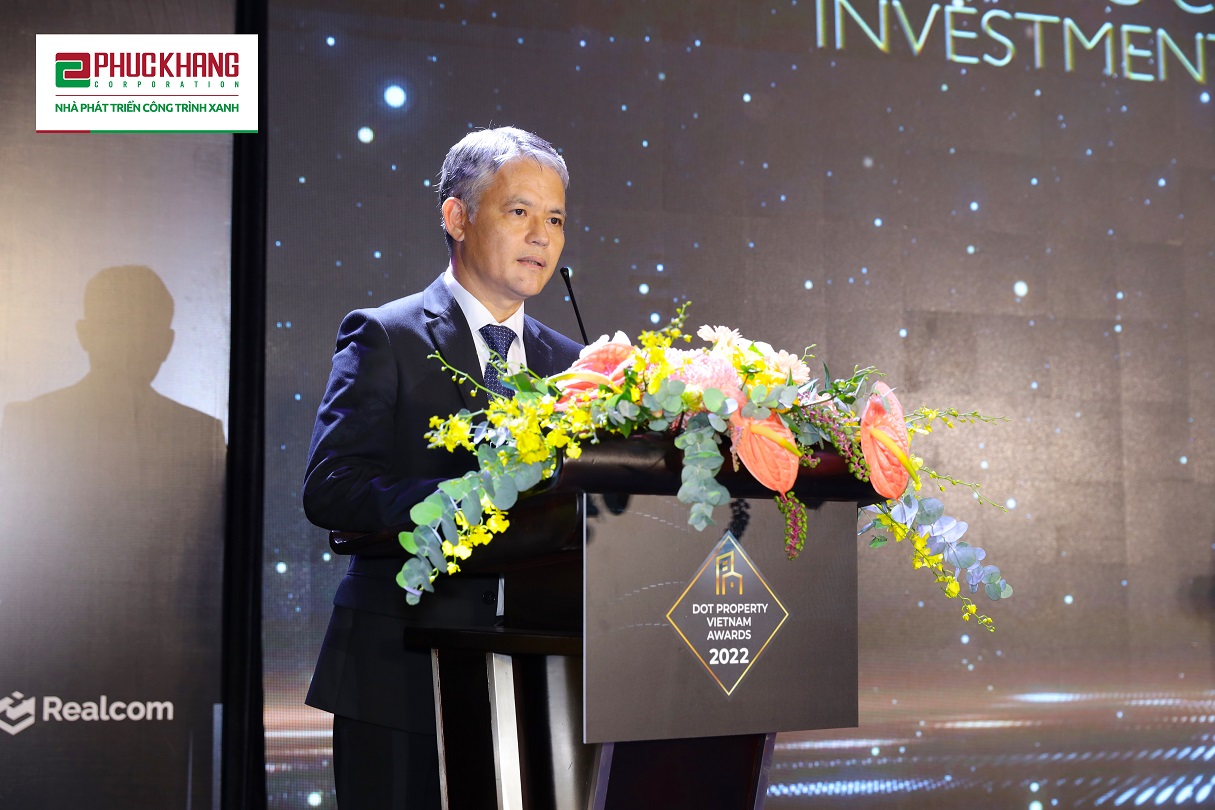 Source:

Phuc Phuc Khang Corporation